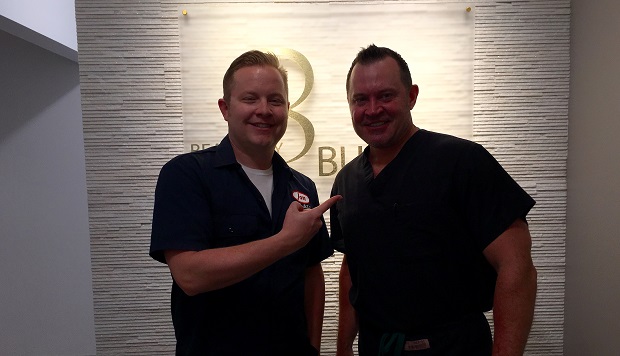 Dr. Gregory Buford is a Colorado Board Certified Plastic Surgeon, and the founder of Beauty by Buford. He's also the author of Beauty and the Business: Practice, Profits and Productivity, Performance and Profitability and the upcoming book Eat, Drink, Heal (which will also be available on Amazon.com) which focuses on Total Body Wellness and how plastic surgery is but a mere part of improving someone's life.
As an admitted skeptic about plastic surgery, thanks in no small part to the overwhelming majority of how plastic surgery is portrayed in the media thanks to salacious fictional shows like Nip/Tuck and grotesque reality shows like I Want a Famous Face or The Swan, I didn't know what to expect when talking to Dr. Buford. What I discovered over the course of our chat was a very conscientious, incredibly caring and committed professional medical practitioner dedicated to improving the lives of his patients in a very holistic way.
We had a remarkably illuminating conversation about a broad selection of topics, including the interplay between our labyrinthine and arcane healthcare system and personal responsibility for one's health; discerning motivation for a new patient coming to see him and the sometimes rejection of a requested procedure; the benefits and drawbacks of treating healthcare as a business; his philosophy of treating patients as clients and ensuring their ROI (return on investment – which is not always something you associate with a medical practitioner); and an array of other complex topics. I didn't let Dr. Buford off easy during this interview, but it's a credit to him that he invites hard questions and demands that everyone in his profession be prepared for these (and harder) questions.
Lest you think this is an inquisition; it's not. Despite the way I wrote it above, Dr. Buford and I got along quite well and had a friendly chat. We also touch on why he got into medicine, the fear that courses through you when you conduct your first surgery on your own, art, business, and more. Dr. Buford discusses not being afraid to spend a patient's money, but he universally seeks to spend it wisely. I am not afraid to ask you to spend your time on this episode, because we spend it wisely with a very dense episode.
And if that's not enough, I give you some insight into what's coming in Ep. 100. So be sure to check this one out!
You can download the show on iTunes, stream it on Stitcher, or listen at the Jon of All Trades homepage.
Podcast: Play in new window | Download
Subscribe: RSS